tdm (Traffic Data Monitor) from AVIONIX SOFTWARE S.L. offers real-time monitoring, statistical analyses and prognoses of traffic data and process times.

Results are displayed in easy comprehensible charts and tables, visualized in configurable maps, and supported by standard and user-tailored reports.
Main tdm features:
Central information portal for airport operations, planning, marketing, management etc.
Common, complete and consistent view on all available data according to Eurocontrol CDM standards
Comprehensible presentation of passenger, traffic, and luggage data
Provides an airport-wide agreed data standard
Fast access to often required information for all stakeholders and indirect partners including ANSP, airlines, shop operators etc.
Quick analyses of complex processes and critical situations to support decision making
Updated information of regional weather and landside traffic
Comfortable UI integrated in your preferred browser
tdm is based on an adjustable modular structure and designed to ensure flexibility and extensibility. The system is thus easily adaptable for future developments and standardizations. For example, although the "Air to Air" function is based on the EUROCONTROL CDM Milestone approach, the model can be adjusted to customer needs. Flight rotations are displayed with all relevant process times and additional information.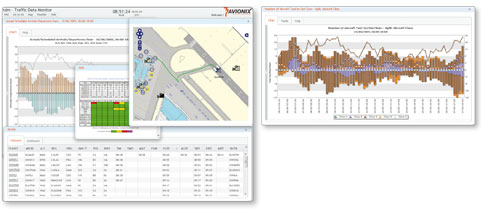 Great attention was given to the development of the user interface (UI) of tdm. It fulfils modern requirements and allows a comfortable and errorfree operation of the system. UI design was performed by specially trained staff and can be adapted to customer requirements.
tdm is implemented as web application and thus largely independent of used hardware and installed operating systems. The platform applies modern server and client-side technologies to ensure a stable and low-cost operation. The system is designed to ensure highest availability. Smooth functionality is guaranteed by proven standard components, which enable good maintainability and extensibility of the system.
tdm helps your airport to gain transparency and efficiency and decrease costs.